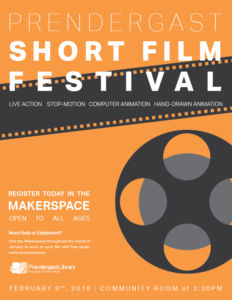 Inspired by the creativity that library visitors have displayed in our Makerspace, Prendergast Library has decided to hold a contest and film festival focusing on short films! Films must not exceed 5 minutes in length, or contain mature or inappropriate content. The Prendergast Library reserves the right to refuse to show any film that it deems inappropriate or otherwise not in line with the aims of the Library or Library Affiliates.
To register for the festival, visit our either our Makerspace or Reference Desk. Participants may visit the Makerspace throughout the month of January to work their film with free equipment and assistance! Film submissions will be accepted until 5:00pm, January 31st. YouTube links to submissions may be shared with prendergastmakerspace@gmail.com, prior to the deadline on January 31st, 2018 at 5 pm. Alternative arrangements for submissions can be made at the Reference Desk.
The four winning films will be played in the Community Room of the Library on February 9th, 2018 at 3:30pm and those involved with the films will be recognized. First prize will be given "The Prendy Award" along with a $25 gift card. The three runners-up will receive a "Prendy Jr. Award" along with a booksale voucher.