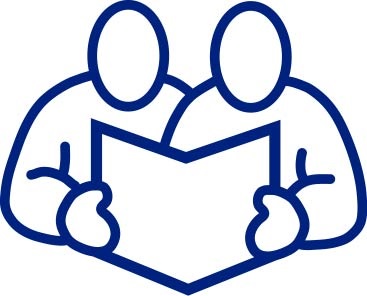 Who Are We?
Literacy Volunteers of Chautauqua County is a  non-profit organization that helps adults who want to read, write, or speak English better.
Who Are the Learners?
They are adults who are 18 years and older and need help with either reading and writing or speaking and listening skills.
Who Are the Tutors?
Anyone who has the desire to help others, the time to volunteer, the appropriate skill set and the willingness to learn can become a Literacy Volunteer.
What is Tutoring Like?
Students and tutors decide where and when to meet.  Pairs meet for 2 or more hours a week for at least one year in public places.  Tutors often use resources from our adult literacy library to design lessons targeting individual student needs.
POTENTIAL TUTORS
POTENTIAL STUDENTS

Do you have what it takes to be a Literacy Volunteer???
Click here to view the PDF and find out!
Click here to download an application form
Return completed form to the Information Desk at Prendergast Library
OR mail form to:
Literacy Volunteers of Chautauqua County
21 East 2nd Street
Dunkirk, NY 14048

What do YOU want to do?

Improve your reading?

Speak better English?

Read to your children?

Get a job?

Improve your current job?

Work toward your GED?

Whatever your personal literacy goal may be, we can help you help yourself.

Literacy Volunteers of Chautauqua County offer FREE, one-on-one tutoring for adults in Basic Literacy and English Language Learning.  Stop in to the Prendergast Library or give us a call at 484-7135, and we will get you signed up.
Save