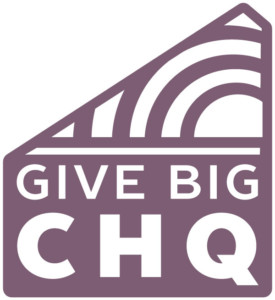 Prendergast Library is one of the non-profit organizations participating in the 2018 #GiveBigCHQ fundraising event!
Give Big CHQ is a 24-hour online fundraising event powered by the Chautauqua Region Community Foundation and GiveGab, designed to raise as many dollars as possible for local nonprofits across our region. This extraordinary event inspires people to come together, show pride in their communities and support local organizations and causes they care about.
We have a chance to be a part of Southern Chautauqua County's day of giving – an opportunity to unite our community around causes in which we truly believe and help nonprofit organizations connect to the larger community.
We need your help! Please join our campaign and help us reach our goal of $5,000! We need you to tell your friends and family members about the important work we do and ask them to join us in helping to make a difference.
Get ready to give! On June 14th, starting at 12:00 on June 14th, visit https://www.givebigchq.org/organizations/james-prendergast-library and make a donation to us and/or to any of the other great participating nonprofit organizations in Southern Chautauqua County. You will have 24 hours to make your donation, and all giving will end at 11:59pm on June 14th.
For more information about Give Big CHQ, visit https://www.givebigchq.org/. Thank you in advance for your generosity to our organization!