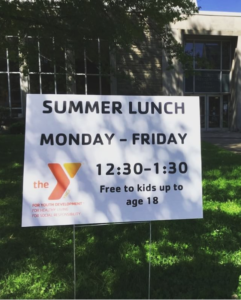 From June 25th to August 31st, the James Prendergast Library will be collaborating with the Jamestown Area YMCA to act as a site for the the Summer Food Service Program! Monday through Friday, from 12:30-1:30pm, free lunches will be available to children up to age 18 at the Prendergast Library.
Prendergast Library is proud to be one of several organizations assisting the Jamestown Area YMCA to implement the USDA's Summer Food Service Program in the area, a group that also includes the St. Susan Center, Jamestown Public Schools, the Jamestown Parks & Recreation Department, and the Hazeltine Public Library.
Other lunch sites besides the library will include C.C. Ring Elementary School, Fletcher Elementary School, Love Elementary School, Lincoln Elementary School, Hazeltine Public Library & Lillian Dixon Park.