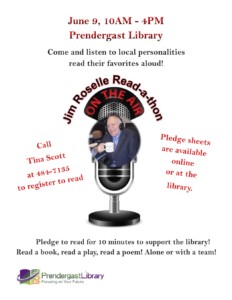 The Prendergast Library will once again make reading FUN. All are welcome to read, learn and have fun at the third annual Jim Roselle Read-A-Thon on Saturday, June 9th from 10:00 AM to 4:00 PM. as a fundraiser for the institution.
The Read-A-Thon honors the late Jim Roselle, a well-known area radio personality for decades. He was also a longtime library board member who used to say a library card was the most valuable card in anyone's wallet. More than 40 readers will select 10-minute excerpts from favorite books, poems, plays and articles to share with a live audience.
To volunteer to read at the Read-A-Thon, call library director Tina Scott at 484-7135. Online sign-ups will be available soon.
Because the event is a fundraiser, readers are asked to find sponsors for their reading slots. Businesses and individuals are also requested to support a half hour or an hour of reading in order to make the event a success.
People can also donate online at www.prendergastlibrary.org by clicking on the Support button and marking their donation for the Read-A-Thon.
Proceeds from the event will support the library's materials budget and its ongoing services and programs. Prendergast Library is located at 509 Cherry St., Jamestown. For information, call 484-7135.