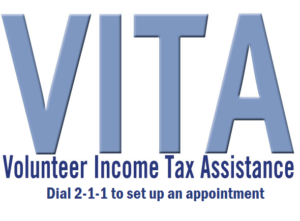 Prendergast Library is once again a site for for the Volunteer Income Tax Assistance (VITA) Program during the 2018 Tax Filing Season.
The VITA program offers free tax help to households who make less than $54,000, persons with disabilities, and senior citizens who need assistance in preparing their own tax returns. IRS-certified volunteers provide free basic income tax return preparation with electronic filing to qualified individuals. This service returns 100% of the refund amount to individuals and helps them avoid dangerous Refund Anticipation Loans.
Make sure to set up an appointment as soon as possible by calling 1-888-696-9211 OR by simply dialing 2-1-1 on your phone.