An update on the library's funding vote – now via absentee ballot:
The library is seeking to restore funding to $350,000 a year – the amount the library was receiving before the funding cuts. If the vote passes, a yearly library tax would be added as a line item on your school tax bill. The school district would collect these funds on behalf of the library.  
This amount could not be increased unless the community approved an increase via another public vote.
This is being proposed via a public 259 vote that will be included on the school budget vote. Due to the COVID-19 pandemic, this vote is being conducted by absentee ballot – look for your ballot in the mail. Ballots must be submitted by June 9th. 
If the 259 vote is passed, a home assessed at $50,000 would pay $11.50 PER YEAR!

Anyone who is registered to vote and lives in the Jamestown Public School District is eligible to vote on library funding.
An update regarding Prendergast and the COVID-19 pandemic:
Today, during the COVID-19 pandemic, many libraries have had to close their physical buildings. The James Prendergast Library closed to the public on March 16, 2020, but we are still "open" and providing an abundance of services!
We have pivoted quickly to new ways of offering services to the public—the core of our mission. When we closed our doors abruptly, the library immediately opened our digital communications, collaborations, and creative activity to reach the community.
You can be sure that this is just the beginning! We are working on a phased opening plan so we can make sure we will help our community recover. This plan includes collaboration with community partners, direct services to older adults and low-income families, program and resource design that complements and assists Jamestown Public Schools' directions for at-home learning, and eventual reopening of the library building with public and staff safety at the forefront of operations.
Have any questions about library services during this closure? Email reference@prendergastlibrary.org or contact us via Facebook – we are happy to help!
Your library – Your choice
Since 1988 the library received $350,000 in taxpayer support each year.
In 2017 the City of Jamestown cut library support to $100,000 and in 2018 funding was cut to $50,000, but your taxes did not go down. 
The proposed 2020 budget included $60,000 in taxpayer support for the library. In November 2019, after learning of $150,000 in savings in the city budget, City Council voted to increase tax support for the library to $100,000, while reducing overall tax income to the city by $110,000. 
As a result of city funding cuts, the library's annual State Aid of $111,000 will be cut and can only be restored when local community tax support is restored to $350,000.
Let's put the decision of where your taxes go back in the community's hands. We are seeking to return to the tax rate prior to the city cuts in 2017. This would require approval via a public 259 vote.
If the 259 vote is passed, a home assessed at $50,000 would pay $11.50 PER YEAR!

Anyone who is registered to vote and lives in the Jamestown Public School District is eligible to vote on library funding. 
This amount will stay the same every year and cannot be increased without another vote from the community. The community would vote on any increase the library may propose, just as they do for any increase in the school budget.
The library serves over 400 visitors every day and offers a wide variety of free services, despite receiving the least taxpayer support among all libraries in the Chautauqua-Cattaraugus Library System.

The New York State Library has requested a 3-year compliance plan from the Prendergast Library's Board of Directors, regarding their commitment to obtain sustainable funding. New York State requires the library to pursue community tax support via a public vote.
Meeting Updates:
What has the library done to reduce costs? 
The library has significantly reduced staffing: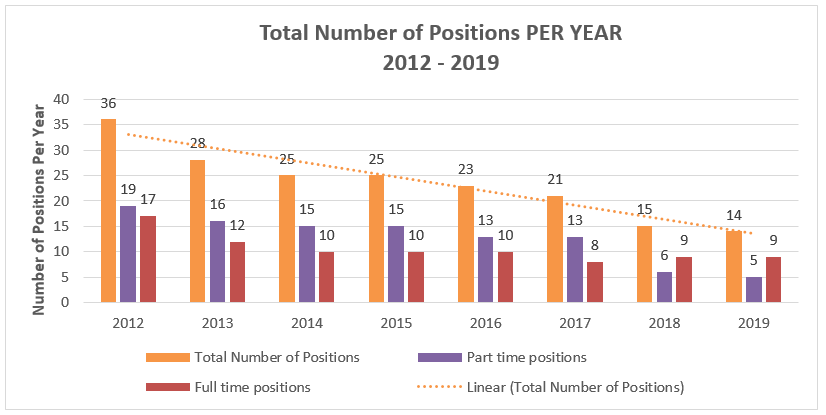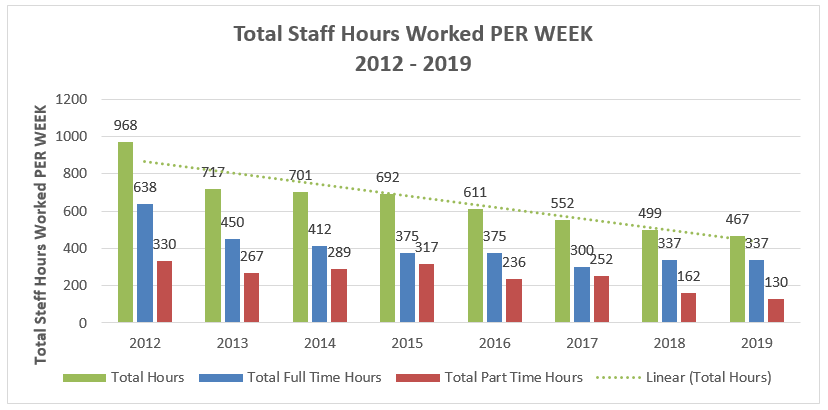 Additional Cost Saving Measures:
We decreased our service points from three to one and all staff are now cross trained.

All equipment is now purchased via grant funding.

The library purchases new materials using grant funding.

Grant funding covers the costs of the library's Makerspace.

We conducted an energy audit to look for ways to reduce our utility bill:

All light fixtures in the building have been changed to LED tubes.

Motion sensors have been placed in all public bathrooms so lights aren't on when the rooms are not in use.

Staff do not routinely turn on all lights in the building – they are used as needed.

The library's database budget was $32,306 in 2012; we now budget $2,000 for the most used database and take advantage of New York State Library's online databases which are linked to the library's website.