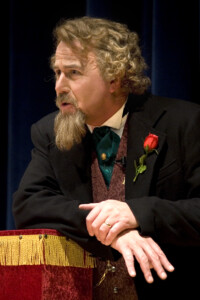 Popular local performer Mike Randall will return to the Spire Theater for his one-man show, "Charles Dickens Presents: A Christmas Story." Randall, who has been performing as Dickens for over a decade, will bring his signature blend of commanding performance and authentic costume to bring Dickens to life on stage.
The show will run at the Spire Theater at 317 E. 3rd St., on December 15 at 2:00 p.m. Admission is free, with donations gratefully accepted. All profits support the Prendergast Library.
In "Charles Dickens Presents: A Christmas Story," Randall entertains the audience as Dickens as he performs a reading of his famous Christmas tale. Randall has received rave reviews nationwide for his reenactments, which feature detailed costumes, a script based on historical documents, and a memorable presentation.
Reviews of Randall's performance have lauded his use of a simple set that replicates what Dickens himself likely used at his reading in Buffalo, his effective costume that even includes a Dickensian hairstyle and facial hair, as well as Randall's entertaining delivery that uses a variety of voices for different characters.