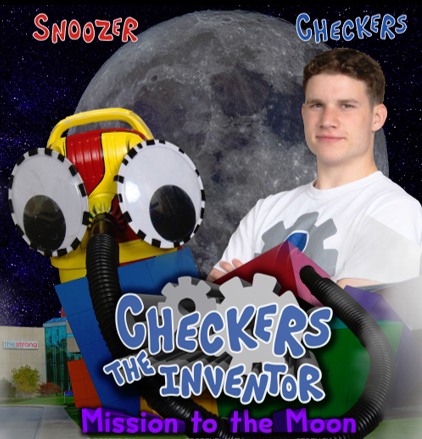 The library will celebrate a summer of reading with a special space-themed performance by Checkers and Snoozers!
Checkers the Inventor and his robot sidekick, Snoozers will take their audience on adventure to the moon in their performance. Kids can help the pair solve puzzles, win challenges, and learn about principles of science along the way.  All ages are welcome at this free family event.
Prizewinners will be selected through a drawing of submitted reading logs. The grand prizes this year for children are two bikes and a Lego set. Teens can compete for a $25 VISA gift card and an art set, and the prize for adults is a $25 VISA gift card.
Questions about the summer reading finale? Call the library at (716) 484-7135 ext. 234.
To learn more about Checkers and Snoozers, visit their website at https://www.checkerstheinventor.com/
Take a look at Checkers' adventures on his way to moon: