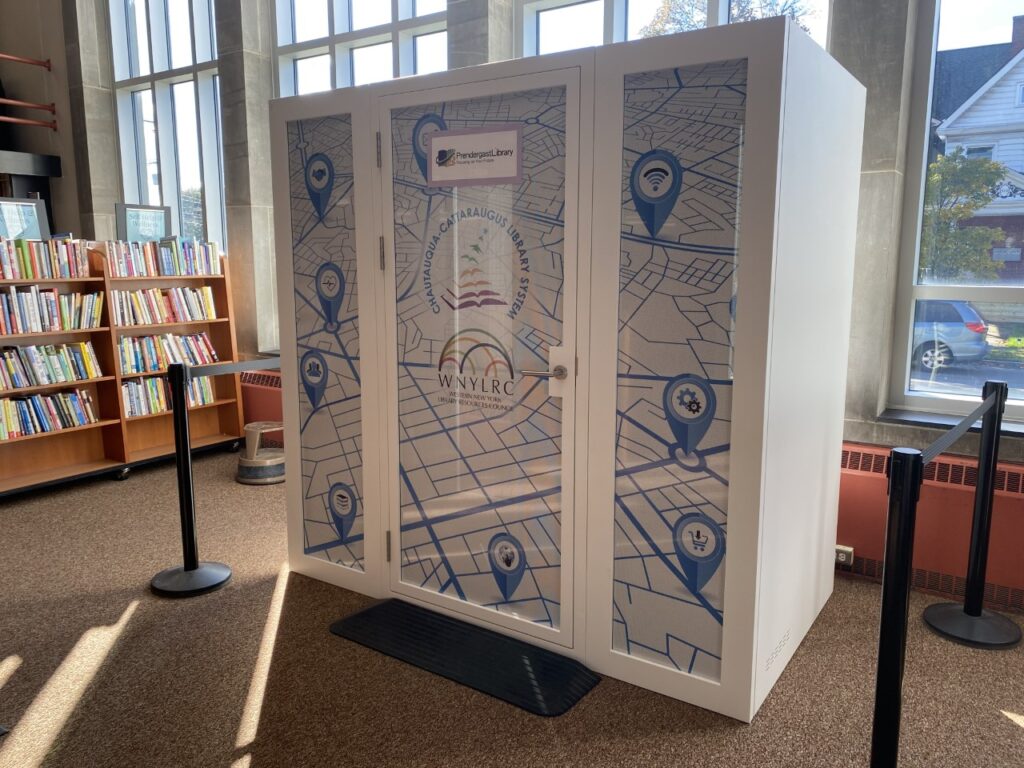 The library is happy to offer access to telehealth services through the use of our Wellness Pod. The Pod is a freestanding room located at the back of the library. It is equipped with a laptop, computer mouse, lights, and technology relevant to telehealth needs.
The Wellness Pod is sound dampening and has a built-in ventilation system. A film attached to the outside ensures privacy for all users. 
Click HERE to read our telehealth guidelines. 
A staff member, designated as a Digital Health Navigator, is available to assist with technology needs. The Digital Health Navigator can also help locate medical and community resources for patrons. This staff member is not a medical professional, but a resource for finding relevant information and ensuring a successful telehealth experience. 
Have a question about telehealth? Email telehealth@prendergastlibrary.org or call (716) 484-7135 ext. 253
**Same-day appointments are subject to staff availability**
Wellness Pod Hours:
Wednesday 9:30-3:30 
Friday 10:30-4:30
Frequently Asked Questions
Question: What is telehealth?
Answer: Telehealth uses technology to provide health care virtually. This can include use of phones, computers, cameras, and more to conduct a health care appointment from a distance.
Question: What services are available in telehealth appointments?
Answer: Types of care that can be provided through Telehealth include, but are not limited to, general healthcare (wellness visits), prescriptions for medications, dermatology (skin care), eye exams, nutritional counseling, mental health counseling, and urgent care conditions (sinusitis, urinary tract infections, common rashes etc.). DO NOT come to the library if you are in need of immediate medical attention or experiencing symptoms of COVID-19.
Question: Are there health care providers physically in the library?
Answer: Library staff are not trained medical personnel. The Digital Health Navigator will be on site to assist with technology use and provide direction to medical and community resources; however, they are not able to provide direct care.
Question: Why is telehealth being offered at the Prendergast Library?
Answer: The library's telehealth initiative aims to improve health care access in the community. As the need for virtual appointments has increased following the COVID-19 pandemic, telehealth has become an increasingly relevant service to community well-being. 
Question: Why is the pod only open 2 days per week?
Answer: Pod hours are currently limited due to staff availability. The Digital Health Navigator has specialized training in facilitating telehealth services and must be available when an appointment takes place. As this is a pilot project, Wellness Pod hours may increase in the future dependent upon community need.
The Prendergast Library telehealth project was created by the Western New York Library Resources Council (WNYLRC). The Wellness Pod and its associated technologies are funded through WNYLRC.