Welcome to the Prendergast Library
We're excited to share our annual report with you! Click the link above to learn more about the library in 2020. 
We're here to help! Let us know if the library's collection is missing an item that you need, and we'll do our best to fulfill your request. 
Sign up for our monthly newsletter
Want to keep up to date on all the library's news? Subscribe to our newsletter by filling out the form. We'll send you a monthly email that highlights our upcoming programs & events.
Open House November 11th!
Join us for a library Open House on November 11th from 4:30-6:30pm to learn about our new items for checkout! We'll have: Science kit demonstrations in the Makerspace! Theme boxes to explore in the Children's Room! *NEW* board games to play in the lobby! We hope to see you there! Science kits and theme boxes […]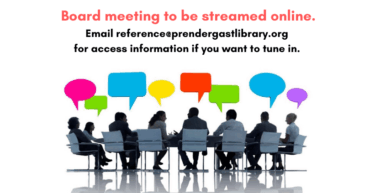 October 21st Board Meeting Online
The library will hold its monthly board meeting on October 21st at 5:15 p.m. The library's board meeting will be held online. All library board meetings are open to the public. If you would like to access the online board meeting, please email us at reference@prendergastlibrary.org.
Join our Board of Trustees!
Dear Community Member, In 2022, the James Prendergast Library needs to fill five Board of Trustees seats. We are seeking candidates who believe in the importance of libraries and are committed to the library's mission and strategic plan. The public library is the ultimate possibilities place. Whether you love to read, are just learning, or […]