Drop in for exploration, learning, and play!
Enjoy staff-led activities in the library's Makerspace Monday-Friday from 3:30 to 5:00PM
Staff-led daily activities are listed on our programming calendar. 
Learn about reserving the Makerspace for your school or group HERE!
Scroll down for more information on our NEW weekly Makerspace programs: Sensory Play Saturdays and Monday Morning Makers!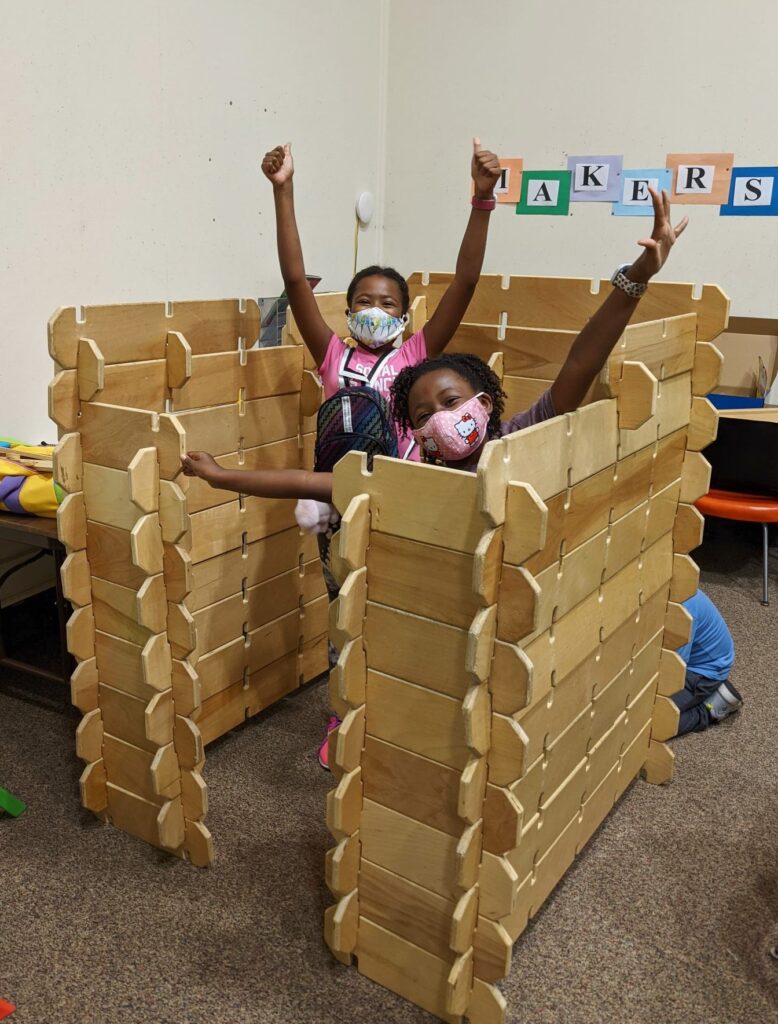 The library's Makerspace is laid out to encourage visitors of all ages to explore independently. Additionally, library staff plan and implement a daily focus activity.
Daily activities include challenges that promote collaboration and critical thinking, where staff encourage children to complete a specific task that relates to a scientific concept (e.g. building a bridge that holds something heavy, identifying an image under a microscope). 
6-8 STEAM-themed stations change weekly, and are open for visitors to explore independently. These stations relate to different elements of STEAM – science, technology, engineering, art, and math. 
The Makerspace promotes learning through open exploration, creativity and collaboration, while also encouraging children to apply and improve their literacy skills. Read more about the benefits of Makerspaces here.
The Makerspace is made possible thanks to grant funding from the Holmberg Foundation.
Weekly Makerspace Programs
Monday Morning Makers | Every Monday 10:30-11:30AM
Join us at a new Makerspace program for children ages 6 and under and their caregivers. Each week we will read a story about a simple science concept and then explore that idea through play in the Makerspace.
Themes will include concepts like "up and down," and "fast and slow," and experiences like building, making messes, and trying something new. Children will get to play in the Makerspace with activities like building blocks, magnatiles, ramps and balls, and other hands-on educational play.
Sensory Play Saturdays | Every Saturday 11:00AM-12:15PM
Join us Saturday mornings in the Makerspace from 11:00-12:15 for sensory play. This program is drop-in – come when you can! Explore early science concepts with hands-on, sensory-based activities. 
Sensory play is an important part of child development. It helps children process the world around them, encourage exploration, and improve sensory processing.
This program is primarily for children 6 and under and their caregivers, but all ages and older siblings are welcome!
 The Makerspace is made possible thanks to grant funding from the Holmberg Foundation.