Visit our Genealogy homepage HERE
Helpful Online Resources
Ancestor Hunt – This blog was started by an individual 'ancestor hunter' where he relates his stories about his search. It has many good links that will help such as Newspaper Research Links. For New York State the papers are broken down by county and then name of the publication.
Ancestry.com New York – Several New York repositories have formed a partnership with Ancestry.com to digitize family history records and make them available on line for free. The list of records available is located in the bottom left corner of the Ancestry.com New York web page. Descriptions of the records as well as the holding organizations are provided through the links and logos on the Ancestry.com New York web page.
Chautauqua County Historical Society & McClurg Museum – Information about events, collections, exhibits, biographies of prominent people from Chautauqua County.
Chautauqua County Historical Society Blog – This blog contains current news, an image database that includes WWII servicemen from Chautauqua County along with local historic photos, blog posts about local history and more.
Chautauqua County NY GenWeb – This site has cemetery & church records, family histories, early area histories with photos, old school photos, vital records, wills, Civil War information for local soldiers, town historian list, town websites, message boards and more…
Chautauqua Retro – History and memories of Chautauqua County. This blog has old photos and postcards of many areas around Chautauqua County, along with links to resources to purchase local history books, Lucy memorabilia, etc.
Civil War Photo Sleuth – The mission of this site is to "rediscover the lost names and stories of every photo of American Civil War soldiers and sailor. Free registration allows you to find, identify or contribute photos. Funded by the National Science Foundation and Virginia Tech.
Cyndi's List – A categorized & cross-referenced index to genealogical resources on the Internet.
New! DAR – Genealogy – Search for an ancestor on the Daughters of the American Revolution. The records may not prove lineage but may provide clues to your existing research.
DeadFred – Dead Fred's Genealogy Photo Archive describes itself as "a free, fun photo genealogy research web site devoted to helping you visualize your heritage!" If you are lucky enough to find a relative among those photos, they will send it to you for free. Be careful, you will spend LOTS of time on here.
Digital Public Library of America – DPLA is an interactive online collection of millions of photographs, maps, sounds, videos, manuscripts, books and more. The content comes from libraries, archives and museums around the US. Start with the "Family Research Guide to DPLA", or search by map, timeline, format, topic or browse by partner. The site has over 2 million records. Lots of history!
Facebook groups – For those who have a Facebook account, there are some local history groups devoted to the area. (You will need a Facebook profile and will be asked to "join" the group)
FamilySearch – Free access to U.S. Federal, State and foreign records. "Browse by Location" lists available records.
New! FamilySearch Obituary Index 1812-1986 –  Microfilm of records at Buffalo, Erie County, Historical Society, New York.
Fenton History Center, 67 Washington St., Jamestown, NY – The Fenton History Center's mission is "To provide educational and cultural opportunities for the residents of Chautauqua County and its visitors through the collection, preservation and exhibition of artifacts and archival materials pertaining to Jamestown and Chautauqua County, New York." Genealogy researchers are available and members can use the research library for free.
Find-A-Grave – A free resource for finding the final resting places of famous people, family and friends. Volunteers from all over the United States and beyond contribute information to this site such as grave records, photographs and genealogical information. Family members are often linked which can be very helpful.
FultonHistory – Free access to digital archives of historic newspaper pages and postcards from New York State.
Genealogy Research Forms – Free forms to help track research efforts which reduces duplication of effort and makes research work quicker and more effective. These are a variety of free family history forms available to download. More can be found by doing a quick Internet search.
Genealogy Photos – Did you know you may find photos of ancestors online?
German Genealogy Group – this site focuses mostly on German records, but their databases encompass all nationalities. Results focus on the New York City.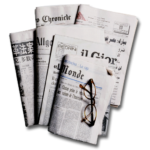 Courtesy of a grant from the Western New York Library Resources Council, the library was able to digitize historic copies of the Jamestown Newspaper. Years available online are 1826-1902. Browse/search the collection here. This site also hosts newspapers from around New York State.
Holland Land Company Records – Create a free account to access 200+ rolls of digitized Holland Land records available online on FamilySearch.org. Currently not searchable by name, but viewable similar to viewing on a microfilm reader. Choose the record set, then click on the camera icon at right to view images.
Jamestown Swedes – a database of early Swedish immigrants in Chautauqua County, New York and Warren County, Pennsylvania. Lots of good information on this website linking those early area settlers.
Lakeview Cemetery burials – online access to burials from 1858-1950 in Lakeview Cemetery, Jamestown, NY.
Library of Congress – LOC has over 40,000 published genealogies and over 100,000 local histories.
You can search America's historic newspaper pages from 1789-1963 in their section titled "Chronicling America" or use the U.S. Newspaper Directory to find information about American newspapers published between 1690-present.
Their American Memory section provides free and open access through the Internet to written and spoken words, sound recordings, still and moving images, prints, maps, and sheet music that document the American experience.
National Archives – Genealogy – Many, many very useful links and resources for genealogists.
New York Heritage – Free access to more than 170 distinct digital collections from New York State. There is also a Civil War Carte de Viste Collection where you may find an ancestor who served in the Civil War!
New! New York State Archives: Genealogy – Births, marriages, deaths, records of war service, land records, court records such as wills and civil cases and records of some correctional and custodial institutions.
New York State Vital Records Index – Brought to you by the "Reclaim the Records" non-profit activist group, the indexes (only) of vital records are now digitized and available online. Included are: Marriage in NY state outside of NYC, 1880-1942, Deaths in Albany, 1880-1915, Deaths in Buffalo, 1852-1944, Deaths in Yonkers, 1880-1915, Deaths in NY State outside of NYC, 1880-1956
Paintedhills.org – Genealogy records from Western NY counties & North central PA. NY: Allegany, Cattaraugus, Chautauqua, Livingston, Steuben; PA: McKean and Potter
RootsWeb – the largest free genealogy website with databases, family trees, message boards, mailing lists and more…
New!  Swedish American Newspapers – Hundreds of Swedish-language newspapers were published in the United States from 1850 onward, catering to America's Swedish immigrant communities. Use this online portal to learn more about these newspapers, and to search over 300,000 digitized newspaper pages from 32 different Swedish American newspaper titles published across the United States between 1857 and 2007. From the Minnesota Historical Society. (In Swedish)
Vårtland – Search the Swedish/American newspaper published in Jamestown, 1890-1920. (Text is in Swedish)