Launchpads Now Available for Checkout!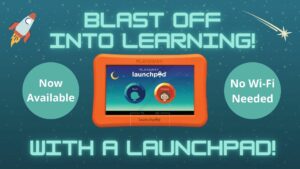 Playaway Launchpads are learning tablets for kids! Launchpads are pre-loaded with learning apps, videos, games, and more for hours of interactive learning and play.
Designed with a simple, easy-to-use interface and 100% secure, Launchpad tablets are made to be passed from one set of hands to the next.
With no download time and no need for Wi-Fi, access to powerful content is as simple as turning on each device.
There are over 50 titles available through the Chautauqua-Cattaraugus Library System! Browse the catalog by searching "launchpad" and place a hold on one today. If you have any questions or need assistance with placing a hold, call 716-484-7135 ext.225 to reach our reference desk.