2023 Children's Summer Reading Program
Welcome to our Summer Reading Celebration!
June 24th - August 19th, 2023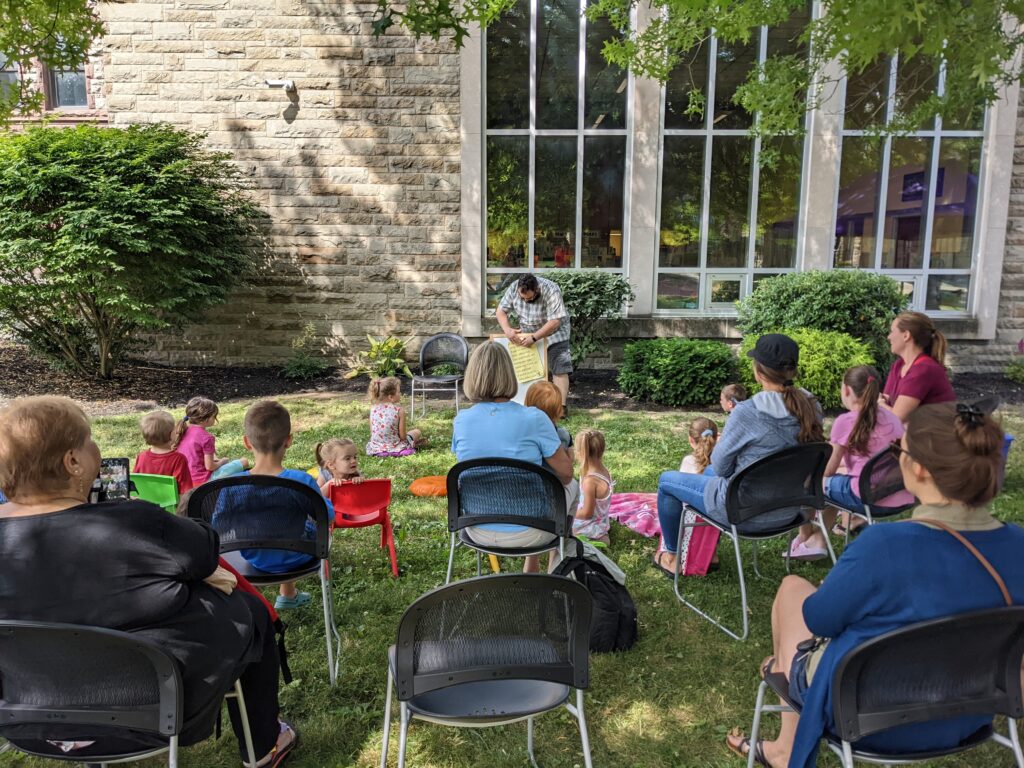 PRIZES
Most Minutes Read
Two Halfway Drawings
*Plus, a treasure chest of prizes all summer long*
Reading & Activity Logs
Pick up your Summer Reading Log & Activity Log at the library's Children's Desk (starting June 24) or sign up with READsquared to record your reading online.
Use your Reading & Activity Log or READsquared to record the minutes you read and activities completed.
Bring your partially or fully completed Reading & Activity Log to the library for free books and entries into prize drawings!
The last day to submit logs will be August 19.
Read for Beads
Pick up a necklace and brag tag when you start Summer Reading and fill it with beads and charms throughout the summer!
1 bead = 1 hour read (4 petals) or 1 activity (1 bug/cloud)
1 *special* bead = 6 hours read (3 flowers) or 3 activities (3 bugs/clouds)
Special Programs and Events
Community Block Party & Summer Reading Kickoff
Saturday, June 24: 11:00-1:00
Join us to celebrate the start of Summer Reading at our annual Block Party! Enjoy food, games, crafting, music, prizes, and more.
Community Days
Wednesdays, June 29-August 24: 10:30-1:00
Outdoor Storytimes with Special Guests including the Humane Society, Jamestown Fire Dept., and Audubon, Crafts, Lawn Games, YMCA Free Lunches, and Jamestown Mobile Market
Open Play and Staff-Led Activities in the Makerspace
Mondays: 10:30-1:30, Monday-Friday: 3:30-5:00, and Saturdays: 11:00-3:00
Join us as we learn through play! The library's Makerspace has activities for all ages, from infants to teenagers. Check out our programming calendar for details about daily staff-led programs, or drop in for open play on Monday mornings and Saturday afternoons.
Music Exploration with Community Music Project
Mondays, July 10-August 28: 10:30-11:00
A weekly music exploration class with Community Music Project. Perfect for ages 6 and under, children dance, sing, and play music. Registration required. Space is limited. Registration opens June 1. Call 716-484-7135 x 234.
All Ages Drumming with Infinity
Thursdays, July 6 – August 17: 11:00-12:00
Join us on the library's front lawn for a drum circle. Drums and other percussion instruments will be provided. You are welcome to bring your drum. No experience is needed.
Fairy & Dinosaur Gardens
Friday, July 14: 2:00-3:00
Build a magical garden for a fairy or dinosaur. All materials are provided. Registration required. Registration opens June 16. Please call 716-484-7135 x 234.
End of Summer Waffle Party
Saturday, August 26: 11:00-1:0
Celebrate the end of Summer Reading with a waffle party. We will have a waffle bar with delicious toppings, storytime, prizes for everyone, and games.
Questions? Call us at 716-484-7135 x 234