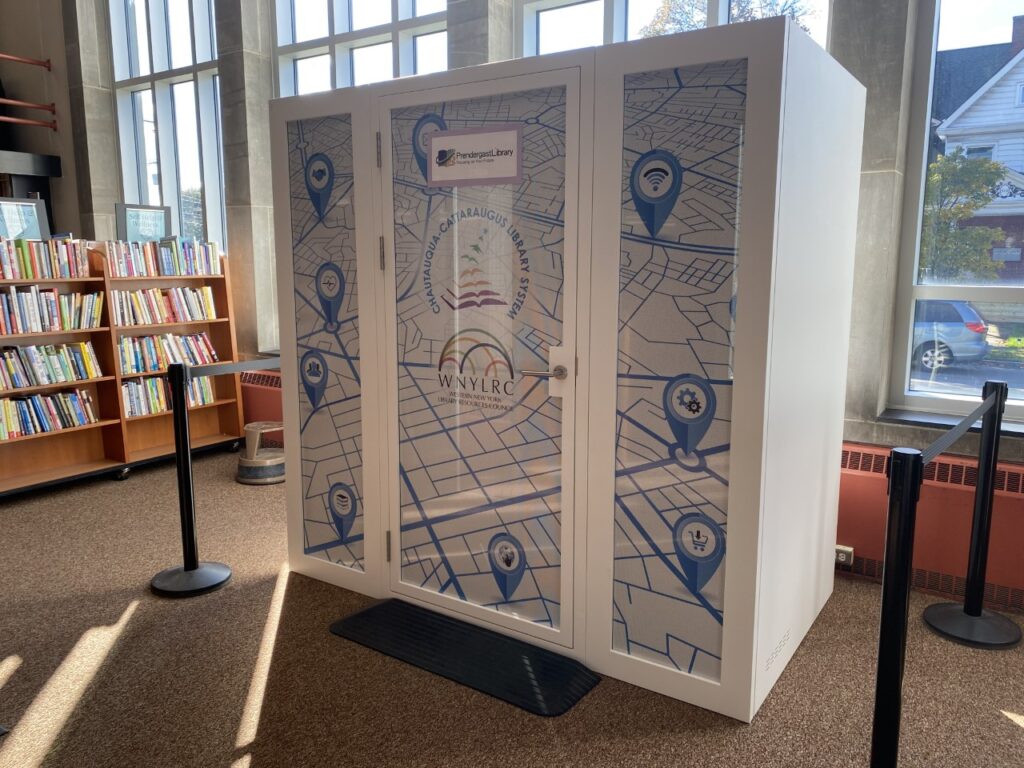 The library is happy to offer access to telehealth services through the use of our Study/Wellness Pod. The Pod is a freestanding room located at the back of the library. It is equipped with a laptop, computer mouse, lights, and technology relevant to telehealth needs.
The Pod is sound dampening and has a built-in ventilation system. A film attached to the outside ensures privacy for all users. 
The Prendergast Library telehealth project was created by the Western New York Library Resources Council (WNYLRC). The Wellness Pod and its associated technologies are funded through WNYLRC.
A staff member is available to assist with technology needs as time allows. This staff member is not a medical professional, but a resource for finding relevant information and ensuring a successful telehealth experience. 
To reserve the Pod, fill out our online meeting room application HERE. 
Have a question about telehealth? Call (716) 484-7135 ext. 253
https://medlineplus.gov/ – information concerning a variety of medical conditions, medical tests or lab results, dosages for medications and articles on health. *Available in Spanish*
https://www.everyoneon.org/ – provides 50+ digital trainings on how to become more involved with technology. *Available in Spanish*
https://www.generationsonline.org/apps/welcome.html – includes tutorials on how to utilize apple, android and amazon fire devices.
http://www.pbclibrary.org/mousing/ – The Palm Beach County Library System presents this resource to help beginning computer users become familiar with using a mouse.
https://www.getsmartaboutdrugs.gov/drugs – information on drugs, drug trends, and drug paraphernalia. *Available in Spanish*
https://www.samhsa.gov/ – information on substance abuse, and possible treatment options.
https://www.nami.org/Home – National Alliance on Mental Illness, provides information on different mental illnesses, support and education for those who are in need. *Available in Spanish*
https://suicidepreventionlifeline.org/ – The Lifeline provides 24/7, free and confidential support for people in distress, prevention and crisis resources for everyone and best practices for professionals. 1-800-273-8255(TALK) *Available in Spanish*
https://www.thetrevorproject.org – The Trevor Project is the leading national organization providing crisis intervention and suicide prevention services to lesbian, gay, bisexual, transgender, queer & questioning (LGBTQ) young people under 25. Call, text, or online chat 1-866-488-7386.
cdc.gov Centers for Disease Control and Prevention *Available in Spanish*
Healthcare.gov Affordable Care Act Health Insurance Marketplace *Available in Spanish*
Healthfinder.gov Health Finder *Available in Spanish*
mayoclinic.org Mayo Clinic *Available in Spanish*
Home – EthnoMed Ethno Med *Available in Multiple Languages*