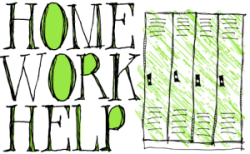 We are here to help you with your homework needs. Whether it is a homework assignment, research project or studying for a test, we have links (below) to help you!
Need help finding print resources? Stop by the library to speak with a librarian or call us
at 484-7135, ext. 234 or 225.
These resources can help you with independent learning, or with your assigned homework and research projects. Most of the resources are aimed at all ages, from elementary to high school.